How to clean a carpet?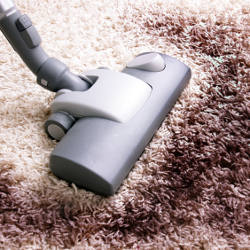 A stain or a dirty mark on the carpet is not dramatic, especially when you know fast and effortless tricks to remove it. It is thus possible to remove spilled coffee, to make a maintenance clean-up or a dry cleaning.
To forget about the carpet cleaning chore or at least make it easier, there's a few simple and cheap solutions, using products that already are in your house: ammonia, white vinegar, washing-up liquid, baking soda.
So we have selected various techniques and tips in the following videos.
Tips before your get started:
Do not use coloured fabrics, they may stain the carpet or the rug.
Read carefully the manufacturer's instructions before using any chemical product like ammonia.
Vacuum the carpet before the cleaning.
---
Homemade Carpet Cleaning Recipe
Tools and supplies:
A large bowl
A sponge
A wooden spoon
A foamer container
3 table spoons of washing-up liquid
1 tea spoon of white vinegar
half a tea spoon of ammonia
Water
Key steps:
Mix the washing-up liquid, the vinegar and the ammonia in the bowl.
Add water, stir and pour in the foamer container.
Apply the foam to the carpet.
Use the sponge to rub the foam.
---
CARPET STAIN CLEANING TIP
Tools and supplies:
Hair dryer
Steam iron
Wet/dry vacuum cleaner
A bucket of clean water
Clean cotton rags
A tea spoon
Washing-up liquid
A cup of hot water
Key steps:
Mix a tea spoon of washing-up liquid in the cup of hot water.
Pour the mix on the stain so the carpet gets really wet.
Take 5 layers of cotton rags, soak them in the clean water then squeeze out the excess.
Lay the rags flat on the wet spot.
Set the iron on medium heat, low steam.
Place the iron on the top of the stain and move it around a little.
The stain is being drawn up the layers of cotton.
Rinse the rags in the clear water and repeat the same process.
Rinse the stain with a soaked clean rag of cotton.
Remove what's left of humidity with the vacuum cleaner.
Let dry or use the hair dryer (medium heat) if you're in a hurry.
---
How to Make Carpet Cleaner
Tools and supplies:
A plastic bag
Baking soda
Essential oil (peppermint or lavender)
Key steps:
Pour one box of baking soda in the plastic bag.
Add 10 drops of essential oil.
Close the bag and store the mixture at least overnight.
Spread this home made cleaner over the carpet then vacuum.
---
Methods of Professional Carpet Cleaning – Jon-Don Video
This video details the pros and cons of 6 different methods to clean a carpet:
Absorbent compounds
Dry foam
Absorbent pad or bonnet cleaning
Rotary shampoo
Encapsulation
Hot water extraction
This article to learn how to clean a carpet was written by Cécile Lessard
---